About Us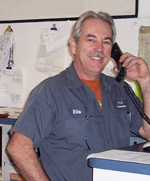 What makes T & D Automotive Service the superior shop in Naples?
Simple. Exceeding expectations with honesty and integrity has made us a recognized leader in the auto repair industry. We have ASE Master Certified Technicians and the latest computerized diagnostic equipment. Furthermore, our computerized automotive information system provides detailed data for your vehicles by year, make and model to ensure that your vehicle repairs and maintenance are in complete compliance with your manufacturer's warranty. Other data includes lists of "hi tech" specialty lubricants required for your particular vehicle, the latest service procedures, diagnostic information and factory issued Technical Service Bulletins. The bottom line is efficient, dependable and cost effective service for you! Whether you are in need of service on your domestic or foreign car or light truck, we're here for you. Since 1986, we have served the community with integrity and a commitment to automotive excellence! We offer a courtesy shuttle to the local area for your convenience as well. Please have a look around and call us anytime to schedule an appointment or, if you prefer, schedule an appointment online. Enjoy your day!
We service and repair the following makes:
Acura Repair
Alfa Romeo Repair
AMG Repair
Audi Repair
Bentley Repair
BMW Repair
Buick Repair
Cadillac Repair
Chevrolet Repair
Chrysler Repair
Daewoo Repair
Dodge Repair
Ferrari Repair
Ford Repair
Geo Repair
GM Repair
GMC Repair
Honda Repair
Hummer Repair
Hyundai Repair
Infiniti Repair
International Repair
Isuzu Repair
Jaguar Repair
Jeep Repair
Kia Repair
Land Rover Repair
Lexus Repair
Lincoln Repair
Mack Repair
Mazda Repair
Mercedes-Benz Repair
Mercury Repair
Mini Cooper Repair
Mitsubishi Repair
Nissan Repair
Oldsmobile Repair
Plymouth Repair
Pontiac Repair
Porsche Repair
Prius Repair
Range Rover Repair
Rover Repair
Saab Repair
Saturn Repair
Scion Repair
Smart Repair
Sprinter Repair
Subaru Repair
Suzuki Repair
Toyota Repair
Volkswagen Repair
Volvo Repair
Fiat Repair
Corvette Repair
Sunbeam Repair
Our shop uses web technologies by AutoVitals in conjunction with ALLDATA.
We are able to personalize your service interval based on how you drive and post authorized reviews from our customers for your benefit. Please explore below a growing selection of auto repair and collision shops, which follow our lead.
Powered by: AutoVitals